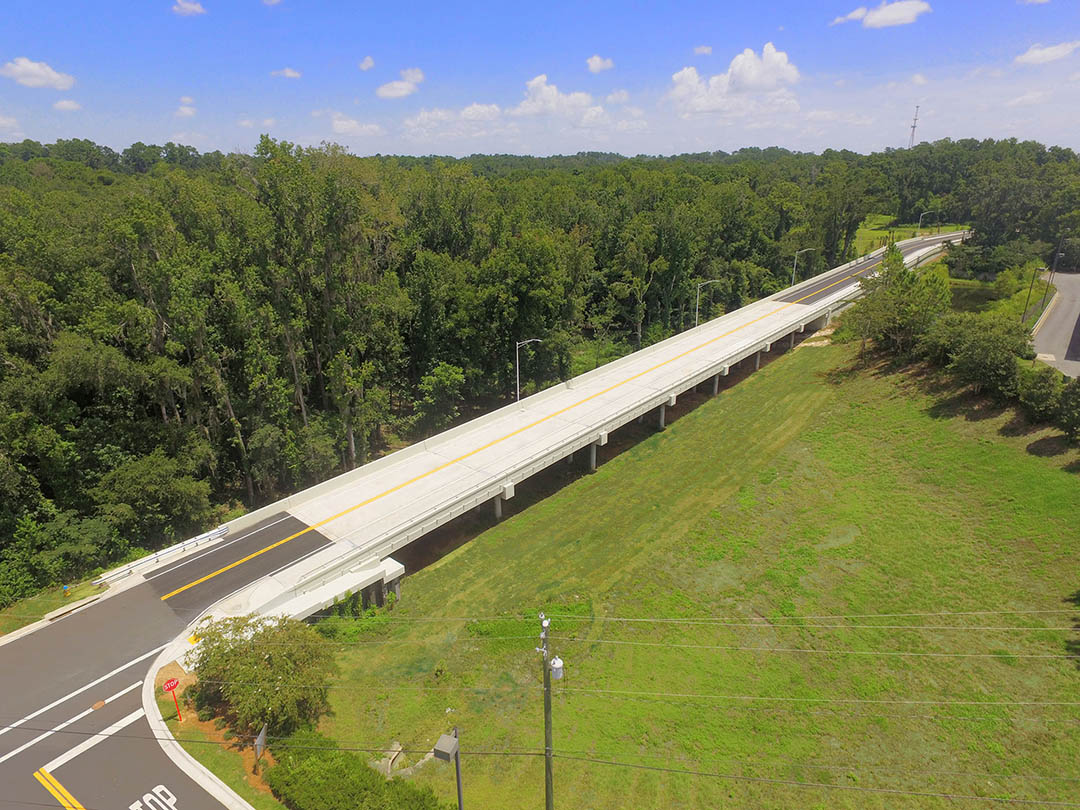 WEEMS ROAD EXTENSION
Project Location:  
Tallahassee, Florida
Construction Completed: 
2020
Project Elements: 
George and Associates, Consulting Engineers, Inc. designed the northern extension of Weems Road for the City of Tallahassee. The northern segment begins at the intersection of Weems Road and Mahan Drive (US 90) and ties in at the termination point of Automotive Way for a length of 1,495 linear feet of roadway improvements. Roadway elements include a 350-foot bridge, 400 feet of MSE walls and 750 feet of roadway improvements. The extension enhances pedestrian mobility through the addition of a 10-foot wide sidewalk running for a length of 1,495 feet.
G&A provided stormwater modeling for a regional SWMF that met the closed basin design criteria and demonstrated no increase in the FEMA 100-year floodplain. We also provided compensating volume for displaced floodplain, obtained a Nationwide permit through the ACOE, and successfully permitted through the City of Tallahassee's Growth Management Department. G&A coordinated utilities with all utility departments within the City of Tallahassee as well as outside vendors.
Permitting was a critical factor in this project. In all, G&A assisted in submitting 12 permits: one to the NWFWMD, one to the Army Corps of Engineers, eight to the City of Tallahassee, and two permits were submitted to FDOT, including a Driveway Connection/Safety Connection Permit for the Weems Road Connection onto Mahan Drive.
Upon completion of this project and the connected Weems Road PASS project, the City of Tallahassee released a virtual tour video, seen below.